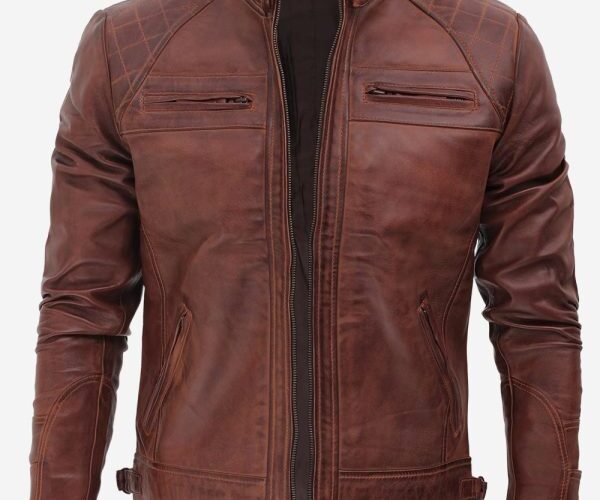 Mens Distressed Brown Motorcycle Leather Jacket – Best Leather Riding Jacket
Quality Craftsmanship:Crafted with precision and dedication, the Best Men's Distressed Brown Motorcycle Leather Jacket is a testament to the artistry of leatherwork. Each stitch and detail is carefully considered, ensuring that you not only look great but also stay safe during your rides. The distressed brown leather exudes character and authenticity, while the rugged finish adds a touch of vintage charm.
Safety First:Beyond its aesthetic appeal, this leather jacket prioritizes safety. It comes equipped with protective features such as reinforced padding and armor in critical areas like the shoulders and elbows. This ensures that you're well-protected in the event of an accident, allowing you to ride with confidence.
Comfort and Fit:Designed for comfort during long rides, the jacket offers a tailored fit that contours to your body without restricting movement. It's also equipped with ventilation features that keep you cool in warm weather and can be easily adjusted for added warmth when temperatures drop.
Timeless Style:The distressed brown leather exudes a rugged and timeless style that pairs effortlessly with a variety of outfits. Whether you're on or off your motorcycle, this jacket is a versatile addition to your wardrobe, making a bold fashion statement.
Practicality and Functionality:The jacket is packed with practical features that enhance your riding experience. Multiple pockets provide ample storage for your essentials, and zippered cuffs allow for easy wearing of gloves. The front zipper is robust and durable, designed to withstand the rigors of the road.
A Symbol of Freedom:Riding a motorcycle is often associated with a sense of freedom and adventure, and this distressed brown leather jacket encapsulates that spirit. When you slip into this jacket, you're not just gearing up for a ride; you're embracing a lifestyle characterized by exploration and exhilaration.
Versatility in All Seasons:Designed to withstand a range of weather conditions, the jacket is suitable for year-round riding. Its adaptability means you can confidently hit the road no matter the season, knowing that you're well-prepared to face the elements.
Conclusion
The Best Men's Distressed Brown Motorcycle Leather Jacket is more than just a piece of riding gear; it's a symbol of freedom, adventure, and style. Crafted with quality and safety in mind, it ensures that you're protected while riding and makes a bold statement when you're off the bike. As you zip up this timeless piece of apparel and head out on the open road, you're not just wearing a jacket; you're embracing a lifestyle that celebrates the thrill of the ride and the allure of the unknown.